Assistance Programs for People with IDD
Food Benefits
Supplemental Nutrition Assistance Program (SNAP) (called Basic Food in Washington State) helps people with low incomes make ends meet by providing monthly benefits to buy food. (In WA state, this program is called Basic Food.) SNAP can be used in Shared Living, supported living and other independent living situations. When more than one eligible person shares a home, each person is considered their own "household" and the benefit is calculated using their individual income. (People living in Adult Family Homes are not eligible for SNAP.)
In WA state:
Estimate your food benefits, or apply for Basic Food Assistance online, by phone at 877-501-2233 or at your local Community Services Office.
In other states:
For all other states, visit the USDA Food and Nutrition Service for eligibility and application information.
Supported Living Resources
In WA state:
Search for a Supported Living Program by geographic location using the Supported Living Program Locator. For a description of DDA Community Residential Services for adults, click here.
Search for licensed Adult Family Homes by geographic location and/or specialty features.
Energy Assistance
Run by the state Department of Commerce, the Low-Income Home Energy Assistance Program (LIHEAP) serves residents in the state of Washington.
Washington State has energy assistance programs throughout the state through the department of commerce.
To be eligible:
Your household has not received a LIHEAP energy assistance grant during the current program year, October 1st thru September 30th.
Your household pays for residential home heating costs either directly to an energy vendor or indirectly through rent.
Your household's average monthly income is at or below 150% of the federal poverty level (FPL), per the chart below.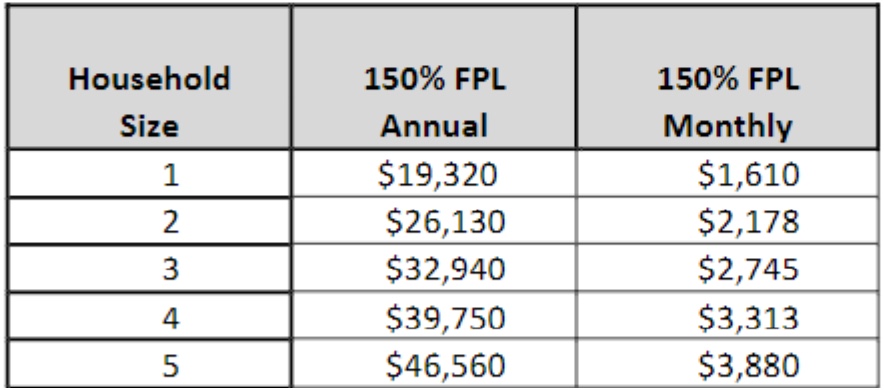 Visit Benefits.gov to learn more about LIHEAP programs in your state and use their eligibility calculator.
Lifeline Phone Service Assistance
Lifeline is the Federal Communications Commission's program to make communications services accessible to low-income consumers in Washington State. Lifeline provides subscribers a discount on monthly telephone service, broadband Internet access service, or voice-broadband bundled service purchased from participating providers.
To be eligible, your household income must be 135% or less than the Federal Poverty Guidelines (see table below):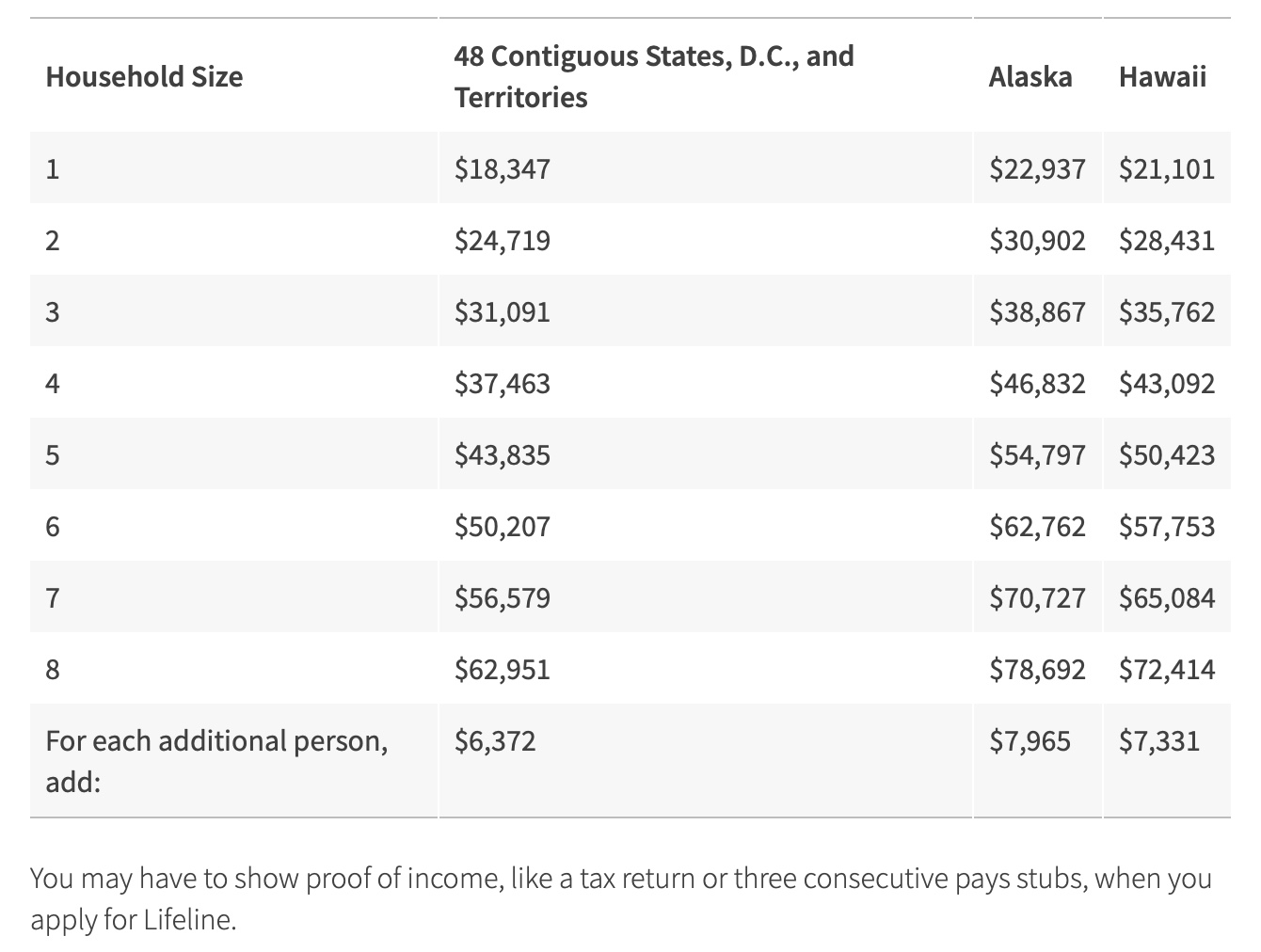 In WA state:
Visit the Washington State Health Care Authority to learn more and apply.
In other states:
Visit Lifeline Support to check eligibility and apply.
Telecommunication Equipment
The FCC's iCanConnect program provides equipment needed to make telecommunications, advanced communications, and the Internet accessible to low-income individuals who are deaf, blind or have both significant vision loss and significant hearing loss. This might include an iPhone or iPad. Assessments of specific accessibility needs, equipment installation, training, and other technical support are also available.
In WA state:
Visit the WA state Department of Social and Health Services (DSHS).
In all other states:
Visit the FCC's iCanConnect program.
Broadband Services
The Affordable Connectivity Program is a discount program for broadband services for low-income households. If you qualify for SNAP, you qualify for the Affordable Connectivity Program (ACP). If your household is eligible, you could receive:
Up to a $30/month discount on your internet service.
Up to a $75/month discount if your household is on qualifying Tribal lands.
A one-time discount of up to $100 for a laptop, tablet or desktop computer (with a co-payment of more than $10 but less than $50).
The Comcast Internet Essentials Plan at no cost (after subsidy).
Only one monthly service discount and one device discount is allowed per household. To receive the connected device discount, consumers need to enroll in the ACP with a participating provider that offers connected devices. (Note: not all internet companies offer device discounts.) The internet company will provide a discount to the consumer.
Resume and Career Help
Landing a job should be fair and building the perfect resume should be simple. Yet we know people living with disabilities face numerous challenges in securing employment. According to the U.S. Bureau of Labor Statistics, only 17.9% of people with a disability are employed. To help level the playing field Resume Builder has created a Resume and Career Guide for People with Disabilities to help people with disabilities create a resume that highlights their skills and value to potential employers. This guide includes important insight such as laws that protect their rights, workplace discrimination, and harassment to ensure they receive a fair chance at achieving their career goal.
Free and Discounted Activities for SNAP Cardholders
Museums for All
Through Museums for All, those receiving food assistance (SNAP benefits in WA state) can gain free or reduced admission to more than 900 museums throughout the United States simply by presenting their EBT card. Search below to find a participating museum near you! You can search participating museums here.
Participating museums in Washington State
Bellevue Arts Museum (Bellevue, WA)
Burke Museum (Seattle, WA)
Columbia Pacific Heritage Museum (Ilwaco, WA)
Foss Waterway Seaport (Tacoma, WA)
Henry Art Gallery (Seattle, WA)
The Historic Trust (Vancouver, WA)
Moses Lake Museum & Art Center (Moses Lake, WA)
The Museum of Flight (Seattle, WA)
Museum of History and Industry (MOHAI) (Seattle, WA)
Museum of Pop Culture (Seattle, WA)
National Nordic Museum (Seattle, WA)
REACH Museum (Richland, WA)
Seattle Art Museum (Seattle, WA)
Tacoma Historical Society (Tacoma, WA)
Washington State History Museum (Tacoma, WA)
Wing Luke Museum of the Asian Pacific American Experience (Seattle, WA)
Other discounts and opportunities
$2 Off Regular Admission for persons with disabilities. 1:1 aides are welcome at no charge. You do not need to reserve an online ticket for your aide; they will be accommodated at the zoo entrance.
We update this list frequently; please check back often for updates. If you have suggested for resources to include here, please contact us!