News Coverage
Partners4Housing in the news
---
Press Release
November 10th, 2022
WOODINVILLE WEEKLY - Partners4Housing helps people with disabilities find optimal living situations
by LASZLO JAJCZAY, reporter for the Woodinville Weekly
(See full article here)
People with disabilities are hit particularly hard by the affordable housing crisis.
Partners4Housing is a Woodinville-based organization that helps people with intellectual and developmental disabilities (IDD) find shared living homes throughout Washington.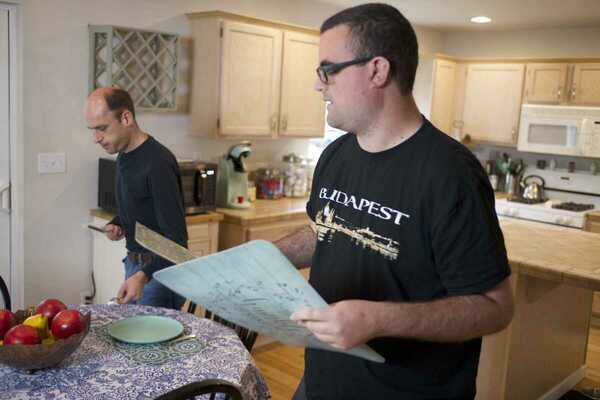 Photo (c) by Ian Coble, courtesy of Partners4Housing
"So far, we've helped families set up about 50 shared living homes serving 112 people, primarily in King and Snohomish County," said Executive Director Pam Blanton. "We're an organization that helps families plan for the future for their loved one with a disability. We help them create independent living arrangements that are unique to their needs, so they can live an independent and fulfilling life."
Partners4Housing is a for-profit organization. Blanton, who has worked for 30 years to help people with special needs find housing, made this decision after she noticed that non-profit organizations were struggling to survive during the 2008 financial crisis.
She "was determined to build an organization that would be viable long after she retires," she said.
The organization has received state funding to provide free Residential Assessments to almost 7,000 families in Washington. This assessment essentially allows families to get together and figure out what living situations work best for their loved ones based on their individual needs, the benefits and services they're currently getting, and how their new home will allow them to live independently, choose the lifestyle they want to live and have an active social life with others.
"This assessment often identifies gaps in their family member's current benefits and services," said Partners4Housing Managing Editor Carol Pearson. "Navigating the benefits silo is complicated and complex, and all too often families are not aware of all the help that's available. With our help, families often receive additional benefits (including the all-important Section 8 housing voucher) to help create that feasible and affordable solution."
People with disabilities also often struggle to find roommates that they can share living costs with. To help families with this burden, Partners4Housing created its Roommate Matching Pool that allows people to find suitable roommates, and to "alleviate loneliness and isolation, so often a problem for people with IDD," Pearson said.
Roommate matching is an important part in a lot of families' thought process when considering things like independence and their children's self-sufficiency.
"If we can find compatible roommates, and other compatible families with whom to partner, we can create our own solutions in the communities where our loved ones live, where they work, where they play, that meet their unique needs," Blanton said.
"It's especially important now that our country is dealing with a housing affordability problem and a shortage of direct service providers (DSPs)," Pearson said.
People with disabilities can find a roommate by looking at where they live geographically, their financial situation and what interests they have in common.
Once they do that, they complete the Shared Living Development process, which helps them set up a shared living home.
"We help them with household budgets, and we help them with Section 8 and getting food benefits and all of those things," Blanton said.
The organization works in collaboration with nonprofits all across the state in order to make this happen. Some of those include the Arc of King County, the Arc of Snohomish County and PEACE.
Partners4Housing helped Kristin Jarvis Adams, a parent of a man on the autism spectrum, find housing for her son.
"He was aging out of the public school system. He was about 21 or 22 years old, and we wanted to be forward-thinking in how we might put together some shared housing and some more independent living situation for him," Adams said. "It was pretty difficult for us to even know where to start. We had ideas in our head on what we ideally thought would be the best for him, but as we moved forward and as we worked with Partners4Housing, it became more clear that our perceived idea might not have been exactly what was the best idea."
"Partners4Housing was really able to connect with us on a level and really ask us some difficult questions that we didn't even consider asking ourselves," she continued. "We really had to think about 'How much realistically would our son be able to financially contribute to his living situation?' 'How much would we be able to contribute?' 'Was that even feasible in the area that we live in?'"
Adams said that Blanton helped them figure out the types of services her son was eligible for in order for him to be independent, like food stamps, a Section 8 housing voucher and Medicaid/Medicare, etc.
"She helped us learn how to fill out the forms to apply for a Section 8 housing voucher. She helped us to fill out forms to see if he would be eligible for some type of a food stipend. She also helped us when we did our DDA evaluation to sit down with my son's case worker and really tap into different services. All those pieces really work together in putting together this shared living or supported living package."
Partners4Housing helps parents like Adams by educating them on the resources that are available to their loved ones.
"They offer handholding for parents, and they offer coaching in guiding you into knowing what resources are available and what is best for you and your family," Adams said.
Roommate matching is a great way to find roommates of similar disabilities, interests and other aspects that can help foster connection and independence.
People with disabilities go through a Shared Living Development, where they figure out how to set up their ideal home, how to budget their money, what food to prepare and other daily living tasks.